Transportation
Air
Gaoqi International Airport is about 6 miles (10 km) from the center of Xiamen. Nowadays, as one of the ten busiest airports in China, it operates 71 domestic air routes to major cities in China including Beijing, Shanghai, Guangzhou, Nanjing and Chengdu. In addition, 12 international flights leave from this airport every week to some overseas cities in South Korea, Japan, America, Southeast Asia, and Europe. Modern T3 and T4 provide a comfortable airport environment. There are several airport shuttle bus routes and BRT line that commute between airport and downtown area.
Airport Services & Facilities: baggage storage, ATMs, VIP lounges, etc.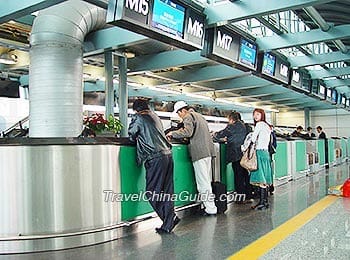 Train
Xiamen Railway Station and North Railway Station are two passenger transport railway stations in this city.
Main Railway Station is located at the No.90, Xiahe Road, Siming District. Normal speed trains in this station bound for most major cities in China including Beijing, Shanghai, Guangzhou, Xian, Nanjing, Hangzhou, Chongqing, and Kunming. The station also has direct trains to main cities in Fujian Province, such as Fuzhou, Sanming and Zhangzhou. Passengers can take public bus no.3, 19A, 19B, 28, 42, 96, 113, 116, 122, 127, 659, 840, 857, 858, 940, 950, 952 or 994 to get here.
North Railway Station is situated in Yannei Village of Houxi Town in Jimei District. It is a major conjunction of Fuzhou - Xiamen, Longyan – Xiamen and Xiamen - Shenzhen rail lines. Trains from the station are all high speed types that can take passengers to many major cities in China, such as Fuzhou, Shenzhen, Shanghai, Beijing, Nanjing, Hangzhou and Chongqing. Public bus No.690, 691, 692, 790, 792, 890, 901, 905, 907, 936, 949, 950 or 980 can take you to the station.
See detailed Xiamen Train Schedule
Long-Distance Bus
Going to this city by long-distance bus is very convenient. Hubin Long-distance Bus Station, Fanghu Bus Station, Wucun Bus Station, Jimei Bus Station, Xinglin Bus Station are five main bus stations in this city. Located at different districts, these stations bring much convenience for passengers. Long-distance buses head for major cities within Fujian Province as well as Guangzhou, Shenzhen, Hong Kong, Guilin, Suzhou, Shanghai and Changsha and many outside the province.
Ship
Xiamen Port has a wide, peaceful water area without freezing or silting, providing an excellent water transportation network.
Xiamen International Cruise Terminal operates ships named "COCO Star" to/from Keelung and Taichung. The ship to Keelung departs at 18:00 every Thursday and arrives at 08:30 next morning. Vice versa, the ship is available every Sunday. It departs at 18:00 and arrives at 08:30 next morning. The ship departs for Taichung every Tuesday at 19:00 and arrives at 08:30 next morning. Vice versa, the ship is available every Wednesday. It departs at 21:00 and arrives at 08:30 next morning.
Boarding address in Xiamen: Next to door no. 9, Central Hall, International Cruise Terminal, No.2 Donggang Road in Huli District. One can take bus no. B1, L5, 51, 59, 87 and 436 to get there. The check-in stops at 16:50 for both routes in Xiamen.
The sea route to the Taiwanese island of Kinmen is operated at Wutong Port. The ferry schedules are from 08:00-17:30 with the interval of 30 to 60 minutes. The duration is about 30 minutes. Wutong Port is located at No.2500, East Island Ring Road. Tourists can take Airport Shuttle Bus Line 3 or Sightseeing Bus Line 1 to there directly. Please make sure to come at least 20 minutes before the departure time to finish the boarding procedures.
City Bus
Taking public bus is a good choice for tourists and local people. Well-developed and modern public transportation enhances the charm of this city. Wide covered public bus, amazing BRT buses, impressive sightseeing bus and unique tourist bus form the inner transport network of the city and bring a lot of convenience.
Subway
Xiamen subway will operate 4 metro lines in the recent years. Line 1 and Line 2 will serve the public respectively in 2017 and 2019. By 2020, the city will have a 144-mile (231 kilometers) rail transit system.
Ferry
Ferry is an excellent and convenient way to enjoy the beautiful scenery of small islets around. As the most attractive island of this city, Gulangyu has been connected with the city by ferry. Nowadays, the ferries for tourists are available at Dongdu Port and Haicang Songyu Port only in the daytime, heading to Sanqiutian Wharf and Necwo Wharf of Gulangyu. In the night time, tourists are allowed to get on board at Xiamen Ferry Dock.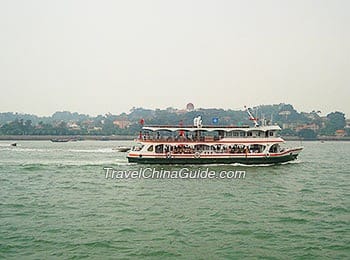 Time
Start
Destination
Operating Hours
Ticket Fare (Round-Trip)
Frequency
Duration
Daytime
Dongdu Port
Sanqiutian Wharf
June-September: 07:10-18:30 October-next May: 07:10-17:30
CNY 35
20 minutes
20 minutes
Haicang Songyu Port
Necwo Wharf
June-September: 07:10-18:30 October-next May: 07:10-17:30
CNY 35 (Ordinary Ferry) CNY 50 (Luxury Ferry)
20 minutes
20 minutes
Night Time
Xiamen Ferry Dock
Necwo Wharf
June-September: 07:30 to 18:50 October-next May: 07:30-17:50
CNY 30
20 to 40 minutes
8 minutes
Sanqiutian Wharf
June-September: 18:50 to 06:30 (Next Day) October-next May: 17:50 to 06:30 (Next Day)
CNY 35
20 minutes
7 minutes

Dongdu Port: the west side of Shugang Road
Bus Route: Take bus no.87 or 436 to get to Cruise Center Bus Stop. Then walk north around 450 yards (400 meters).
Haicang Songyu Port: Nearby Haicang Road
Bus Route: Take bus no.834, 835, 836, 837, 890 or 892 to go to Haicang Road. Then walk southwest around 50 yards (40 meters).
Xiamen Ferry Dock: No.15, Lujiang Road
Bus Route: Take bus no.4, 25, 97, 107, 112, 118, 127, 655, 656 or 841 to get to Ferry Post Office. Then walk south around 90 yards (80 meters).
Taxi
There are over 5,000 taxis operating in the city. Grabbing a taxi is the choice of many locals and travelers, for it is more convenient and inexpensive than some popular tourist destinations. The taxi rate is as follows:

| Distance | Rate |
| --- | --- |
| For the first 3km (around 1.9mi) | CNY10 |
| For each additional kilometer (0.6mi) farther than 3km (1.9mi) | CNY2 |
| For each additional kilometer (0.6mi) farther than 8km (5mi) | CNY3 |

Note: Cabs running between 23:00 and 05:00 the next day would charge extra 20% for night-driving allowance. For each cab ride, CNY2 is required for the fuel charge.
Here are some cab fares for your reference if departing from the Main Railway Station:
To Ferry Dock: CNY15-20
To Island Ring Road (near Baicheng and Hulishan Battery): CNY20-25
To Jimei University: CNY40-50
Tips: The downtown area is not big. CNY20-25 is enough within the downtown area. There are complaint numbers attached inside the cabs. You can dial the number for a complaint if not satisfied with the service. Almost all taxis in the city are officially operated and would charge by the meter. You can ask for invoices.
Bicyle
It must be a fascinating experience to ride a bicycle along the Island Ring Road, where one can enjoy the beautiful sea scenery and the Taiwan Island across the sea. Bicycle rental services are mainly offered on the Island Ring Road. Apart from ordinary bicycles, tandem ridings or bicycle made for three persons are also available. Rental fare varies from CNY 5 to 15 per hour depending on the types of the bicycle and plus a deposit of CNY 150 to 200.
| Bicycle Type | Referenced Price (per hour) |
| --- | --- |
| Ordinary Bicycles | CNY 5 to 8 |
| Tandem Ridings | CNY 10 |
| Three Seats Bicycle | CNY 15 |

Suggested Bicycle Tour Routes:
1. Baicheng Sand beach (Xiamen University), South Island Ring Road, Wuyuanwan Bridge, North Wuyuanwan Beach
2. Baicheng Sand beach, Hulishan Battery, Cengcuoan Area, Yefengzhai (Coconut Wind Fort) Game Center, Conference and Exhibition Center, Kwan-yin Hill Beach, Wuyuanwan Area
Note: 1. June to September is perhaps the most favorable season to ride around the city.
In the tourist high season, there will be many riders.